Overview
FMEA is a systematic group of activities intended to recognize and evaluate the potential failure of a product or process and its effects. This methods is useful for any process in industry such as chemical, petroleum, steel, pharmaceuticals, and consumer products. The FMEA is a analytical tool used by the process intensive industry. This systematic approach formalizes the mental discipline that is needed to ensure Quality is built into the product. The FMEA methedology helps to Identify actions which could eliminate or reduce the chance of the potential failure occurring. FMEA is of two types, one that deals with the current issues in the process or product, and the other with potential problems to come.
MODULE 1:
*

FMEA Overview

*

Principles of FMEA

*

Types of FMEA

*

Benefits and Applications

*

FMEA team

*

What is Failure Mode?

*

FMEA formats and standards.

*

The PDCA Cycle and FMEA.
MODULE 2:
*

FMEA Development

*

How to identify effect and cause of failure

*

Severity, Occurrence and Detection ratings.

*

Risk Priority Number.

*

Bath tub curve and failure analysis.

*

Reduce RPN and measure effectiveness.

*

Sample Application
FAILURE MODE
A failure mode is the way in which a failure could occur and should not be confused with the complaints or issues. A failure mode is the root through which the failure has happened. This can also be mentioned as the deviation that has caused the effect.
EFFECT
The effect is related to the mode as the result of the mode in which the problem has happened. This result could be severe or major or minor.
CAUSE
The causes are related to the mode and is the reason why the deviation (failure Mode) has happened and hence the effect. Causes are generally well brainstormed before the possible list of causes to the failure mode is found
TRAINING/CERTIFICATION
Intensive 25 Hrs Class Room training course leading to Six Sigma Green Belt Certification, conducted by Real time consultants with 20 years expertise + online and class room support for six sigma project development upto 1 year... Register for the Course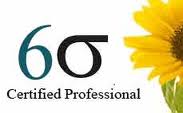 1st Sep to 1st Nov Black Belt Six Sigma, Online, WhatsApp: +91 98950 93119
E. : info@qualimations.com
Reg. Chennai: +91 9940622700
Reg.Online: Register for the Next Course
Six Sigma Green Belt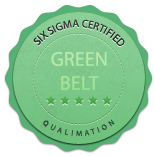 The Green belts training helps you to understand deep into the Six Sigma techniques and also into the management of the quality improvement program. You will be able to develop a clear lead into most of the process controls and development activity after the completion of this program. Qualimations will guide in the use of DMAIC approach and support you in its implementation. The green belts have to coordinate the implementation of six sigma in their respective areas within the organisation. They also support the black belts in forming the company wide six sigma implementation effort..... Read More