Overview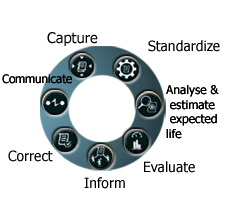 Warranty Analysis focuses on predicting future warranty and maintenance cost of running the whole program. At Qualimation Tech we have developed methods that helps in early detection and correction of some of the warranty related problems also this Information is needed to perform root cause analysis on product failures. Since field failure forms as basis for FMEA, study of warranty is essential to the quality managment process. The Warranty information also forms as basis to feed subsystem and component level reliability information.
The Warranty Analysis course is not limited to the follwing but covers the following:
*

Failure Time Distributions

*

Field Failures as basis for FMEA

*

How to analyze field Failures.

*

Warranty/ Fleet Maintenance Data?

*

Warranty Analysis

*

Warranty Prediction

*

Analysis of Non-Homogeneous warranty data

*

Monitoring the Warranty data

*

Setting optimal warranty periods

*

Weibull probability Analysis and life testing
NDT Certification
In order to perform even the most basic non-destructive test, a technical lead must be trained, and in many cases, certified to standards like that of ASNT. "It's extremely important to be certified. This is the way that any organisation can be assured that their technical personnel have experience in specific methods and techniques."ASNT's core certification program is the best suited to do so. In the last couple of years, Qualimation has offered Certification program... Read More
NDT Training
The candidate would have "hands-on" knowledge for each method they will be learning by using actual equipment and materials with "real-world" specimens.In-depth technical and practical knowledge of the method being taught and presented in such a way that the students not only learn the subject processCertification, that leaves them to open all NDT and Quality jobs.Training material - course manuals, handouts, text and reference books that serve as reference material all through their career... Read More
OBJECTIVE
Participants in this program will learn how to use their warranty and service data to:
Improve product and/or service quality
Reduce production and after-market costs
Increase customer satisfaction
Establish cost-effective reliability and warranty levels
WHAT IS DOE ?
Assume you have 2 factors that affect your low output problem or your sales problem, then a properly designed experiment can answer some of these Questions
Which factor has more influence on the problem ?
At what level of the factor the problem is minimum ?
At what level of the factors the factors other that the two you know affect the least.
Material Selection
For all engineered products reliability and Material performance is the key factor. For robust material performance, selection of proper materials is essential... Read More
Testimonials
The course is very excellent and content is good, the practical and case studies is very good. The time of delivery / Handson.

S.Sathish, Asst Prof, Sri Ramakrishna Engineering College
I have improved my knowledge in this course. Lot of awareness about controlling the defect. This is very useful for my career and improves the Quality level in the organisation.

K.Vinoth Kumar, Quality Engineer, APEX Bright Bars, Coimbatore
The course is very good and useful to me. I got lot of ideas from your teaching, your way of training is simple and superb.

S.Meiyazagan, MBA, ANNA University
Very useful and clear,

V.Bharathi, MBA, Anna University
The course is good and learned a lot in this session. At a design level plan to use this for product development in developing a defect free product and with minimum cost.

Elavarasan. S. R&D , KNR Company
Excellent!!!, I have clearly understood how to approach the DPMO and PPM options. The X bar chart and its actual importance is very clear now.

N. Vijaya Kumar, Production Incharge, Viking Industries
It was a very interactive session, lots of practical application for service and production sectors.

Sumesh, Research Scholar, Anna University
This course is useful for academic and industry. The way of explanation with practical solution is very easy to understand. No matter what business you are doing 6 sigma is critical.

Dr.P.Sivaprakash, Associate Professor, ASL Pauls college of Engineering and Tech
The course is very useful for management graduates, i already know TQM, still felt the application of 6sigma is deep and useful.

Umaashankar.V, MBA Student, Anna University
The course is well planned out and effectively handled, covered basics and all credentials needed for Six Sigma. I was able to understand the concepts well, the examples quoted gave a real time picture for understanding.

K.Karthikeyan, Assistant Professor, K.V. Institute of Management and Information Studies
Six Sigma Black Belt Course at Chennai
1st Sep to 1st Nov 2021 Black Belt Six Sigma, Online, WhatsApp: +91 98950 93119
E. : info@qualimations.com
Reg. Chennai: +91 9940622700