Overview
Qualimation engineers were deputed for Fatigue crack detection of Impellers, Pen stock pipes & Runner buckets for K.S.E.B (Kerala State Electricity Board) at their hydroelectric power project station at Moozhiyar, Pathanamthitta, Kerala , India from 1997 which is carried out annually till date.
Support in Preparation of bending, post bending (Cold bending and Hot bending), heat treatment, oxidation, chemical cleaning, welding edge preparation, fit up, welding, weld visual, dipentrant testing, Fluorescent dye penetreant testing, Radiograph and on line x-ray, Hydro pressure testing, Air tight testing (with fluorescent sodium) Painting.
Development of methods for the power sector and review of Radiography interpretation of piping as per relevant codes, Preparation & Review of As-built drawings for various projects with respective to international codes and standards like ASME, ANSI, API, AWS, BP, DIN etc., & client specification.
Third party representation for kerala state electricity board at Thottyar power project site in Idukki.
NDT Preparation
If you have an interest in starting/enhancing a career in the field of nondestructive testing, take the UT course and top it with the Radiography and other NDT courses.
Now you don't have to leave your place and travel, you could choose a range of online courses. The course material would reach you by post and also as a mail attachment
Qualimation also offers a range of practical training at sites in UAE, Qatar and India.
Our experienced staff of consultants have developed a full range of customised NDT training modules for you. All our products are based on years of practical real-world experience working.
Once you are part of the Qualimation family, all doubts pertaining to NDT and Quality will be taken care by our experts.
AIRCRAFT MAINTENANCE INDUSTRY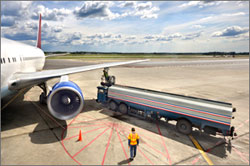 Qualimation carried out Special NDT tasks for the Indian Naval Aircraft division for Fluorescent Dye penetrant inspection of rotor blades of Aircraft engines.Qualimations support for AIRINDIA Development of inspection methods procedures based on required reference standard sensitivity levels, available equipments, processes as per Honeywell CMM. Machines considered for preparing procedures are FPI Dyglo made,FMPI ITW make, Eddy current machine wheel scan5, Demanetizer all these for AIR INDIA LTD Trivandrum... Read More
Course Details
"Excellent course and instructor, explains on the concepts, takes trouble to explain with every day examples. Illustrated with actual field problems. As healthcare is relatively new area for six sigma application it will take time but the principles apply. I would consider starting from patient registration and then the billing process."
Dr Satish Kurivilla, Gynaecologist, Pondicherry Institute of Medical Sciences
NDT Services
Qualimations support include comprehensive range of Inspection, NDT and consultancy services. The products include time-tested conventional methods through to the most sophisticated advanced NDT and Consultancy methods techniques available.
We provide the necessary information and resources to complete your Inspection task through our trained, certified and well experienced staff.
After 17 years in the NDT/Quality Engineering field we have developed a comprehensive set of training module going through several phases and varying applications... Read More
Testimonials
1111111111111

111111111
testing, this check by qualimations

testing
test

lkj
I am happy that i participated in the course, the function of the quality departments and QC/QA is very clear.Should be useful for the future.

S Arul Kumar, Engineer, V-Guard Industries
Your training is excellent and well delivered. The way of presentation and the linking of each process is beautiful. It is easy to capture the data. This will be implemented in the company.

R.Venkatachalam, Quality Assurance Engineer, V-Guard Industries Ltd
This program has lot of tools for improvement, machine capability and real time samples on cost of quality is good, thank you.

T. Balachandar, Quality Assurance Engineer, Supertech Industry, Coimbatore
This is a very useful course for all. It helps to understand what we studied in the TQM sessions. Qualimations has related this to actual data and with industrial Samples.

M.Vinoth Kumar, Student, MBA, Anna University
This is very interesting course, it has lot of good tools and the way qualimations deliver with samples is good.

C.Saravana Kumar, Quality Controller, Viking Industries, Coimbatore.
The first day of the session i came to the session with no idea of what is six sigma. Now i understand that this is very critical for my carrier. These concepts make to work smarter and focus on the approach or the attitude to the way you work.

P, Vinoth Raja, ME Industrial Engineering, ANNA University
The course on Six Sigma was taught very well, also planned and the experience gained by the resource person over the period of his working. He facilitated the participants for learning and how to apply practically.

P. Karuppuswamy, Professor and Head(Mechanical), Sri Ramakrishna Engineering College, Coimbatore
This course is focused towards Jobs in Oil and Gas, Piping,Welding,Fabrication, Heavy Electrical and Engineering Sectors.